Funding Database
Swedfund
Full meaning
African Union
Community of Sahel–Saharan States
Common Market for Eastern and Southern Africa
Economic Community of West African States
Foreign direct investment
Gross domestic product
Inclining block tariff(s)
International Monetary Fund
Independent power producer
Kilowatt
Kilowatt hour
Liquid petroleum gas
Megawatt
Pay as you go
Power purchase agreement
Private public partnership
Standard and Poors Global Ratings
Sub-Saharan Africa
Transmission and distribution
Time of use
West African Economic and Monetary Union
United Nations Industrial Development Organization
Value added tax
World Bank Regulatory Indicators for Sustainable Energy
Credit/loans offered with assets, e.g. inventory and equipment, used as collateral. Transaction is recorded on the balance sheet as a debt affecting the financial position of a company.
Credit/loans offered with assets, e.g. inventory and equipment, used as collateral. Transaction is recorded on the balance sheet as a debt affecting the financial position of a company.
Funds used to purchase physical assets such as property, plants, buildings, technology, and equipment. Brick and mortar only (including construction and labour), no soft costs included.
A security pledged for the repayment of a loan.
Debts that have longer than commercially available loan tenors, or lower that commercially available interest rates, or less restrictive collateral requirements, or forgiveness for all or some part of the principal.
A debt that can be converted into equity or stock.
International financial institution with a mandate to finance projects that achieve development outcomes, e.g. The Word Bank.
Independent Power Producers that are at pre-PPA stage but are in the process or have already obtained relevant permits.
Refers to contractors who design the project, procure the equipment, and construct the facility for a client all under a single contract and for a fixed price amount.
A metric used in financial analysis to estimate the profitability of potential investments.
Refers to the timeframe within which an investment will be held before being sold.
Monetary assets, usually grants, loans, or equity, give to fund seekers for operations, expenditures, and project execution.
As opposed to "pari passus" guarantee coverage, where the guarantor covers loan losses on an equal basis with a lender, (i.e. where the loan principal is $1000 and $100 is lost and the pari passu cover is 50%, the guarantor pays out only 50%). With first loss, the guarantor provides a pay-out of 100% of the losses up to first loss cover, (i.e. where the loan principal is $1000, and the first loss coverage is 10%, on the same $100 lost, the guarantor provides a pay-out of the full $100, since it is not greater than 10% of the loan amount).
A funder or investor giving grants, technical assistance, equity and mezzanine/subordinated loans, concessional loans, commercial loans, guarantees and risk mitigation instruments, or any other financial instrument.
A form of financial assurance used to secure debt liabilities. Can be called upon (called a guarantee call) by the lender in the event of a loan default or payment arrears. The guarantee provider is called a guarantor.
Only considers investments meeting certain economic, environmental, and social criteria, while also generating financial returns.
A discount rate used to determine the future profitability an investment is expected to generate over time.
Involves utilising a company's purchased inventory as collateral for a loan.
Financial regulations that comply with Islamic law (Shariah) and follow specific stipulations e.g. inability to take interest-based loans.
A type of debt that is only paid out after other debts are settled when a company gets liquidated due to insolvency.
A type of debt that is only paid out after other debts are settled when a company gets liquidated due to insolvency.
IPPs that have equity partners but no EPC contract and no debt financing.
The amount of own equity that a lender requires the borrower to place towards the total project cost in order to provide a loan for the balance.
A claim put on installed equipment to be used as collateral.
Used for bank loans and insurance contracts to indicate the length of time a loan is valid until it's due.
Funds paid out to an organisation based on some percentage contribution made to the total project cost by the grantee.
A form of debt instrument which is subordinated to senior lenders, therefore carries a higher interest for the greater risk assumed of non-payment and is usually convertible to equity
IPPs that have acquired land, PPA, and the relevant permits.
A one-time fee charged by a lender/guarantor for processing and approving a loan/guarantee application.
Where the guarantor assumes only partial risk of non-payment, usually 50%.
For IPPs, this is the ideation stage before the acquisition of relevant permits.
In contrast to the household usage of energy resources, productive usage refers to utilising energy for agriculture, commercial, and industrial purposes.
Restructuring a debt.
Initial funding for a business to turn an idea into a product or service.
Debt that is paid out first when a loan is in arrears, after a loan is called into default or when a company is dissolved.
Funding rounds for companies at different developmental stages. Series A is the funding raised after seed funding, while Series C is raised once company is almost at maturity and looking to scale or enter new markets.
An independent power producer that generates and sells less than 10MW.
A specialised investment fund that pools resources to invest equity solely in the energy sector.
A fund set up to solely provide debt financing for the off-grid energy sector enterprises.
A large corporate investor that invests for strategic gain, e.g. to access a promising technology.
Reduced interest rate that is lower than commercial interest rates.
Third affiliated party that agrees to back a loan or debt.
Average amount of funding made available for each individual recipient.
Day-to-day operational expenses.
Description
Swedfund invests directly in companies and indirectly through funds and financial institutions, with investments divided between equity, loans and funds focusing on impact on society, sustainability and financial viability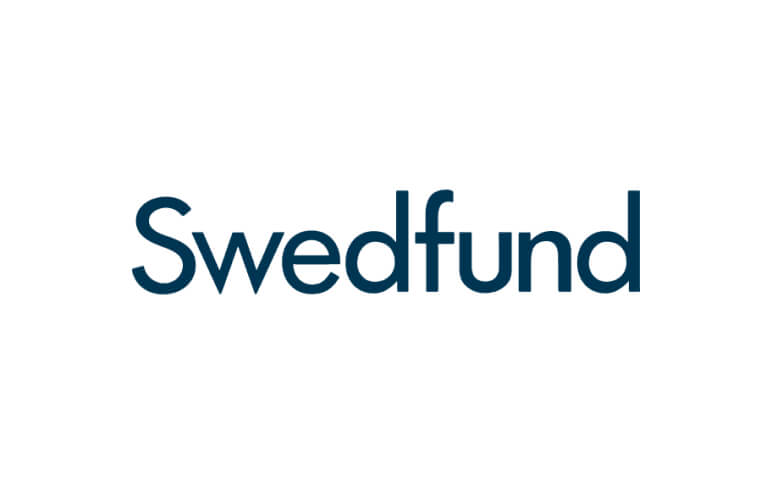 Information
Financial instrument type
Commercial Debt
Financing entity type
DFI
Market segments
Commercial and Industrial

Mini-grids: Solar, Small Hydropower, Hybrid

Solar Home Systems
Geographic focus
Sub-Saharan Africa

Countries
Angola
Benin
Botswana
and 45 more
Burkina Faso
Burundi
Cameroon
Cape Verde
Chad
Comoros
Djibouti
Equatorial Guinea
Eritrea
Ethiopia
Gabon
Ghana
Guinea
Guinea-Bissau
Ivory Coast
Kenya
Lesotho
Liberia
Madagascar
Malawi
Mali
Mauritius
Mozambique
Namibia
Niger
Nigeria
Rwanda
Senegal
Seychelles
Sierra Leone
Somalia
South Africa
South Sudan
Sudan
Swaziland
São Tomé & Principe
Tanzania
The Central African Republic
The Democratic Republic of Congo
The Gambia
The Republic of the Congo
Togo
Uganda
Zambia
Zimbabwe
show less
Activities eligible for funding
For off-grid enterprises:
Asset based financing (on balance sheet)
Asset based financing (off balance sheet through an SPV)
Project financing


For

IPP

s:
Early stage (pre-

PPA

)
Mid stage (post

PPA

)

Late stage

(equity partner, pre-EPC contract + debt financing)
Currencies
Euros
US Dollars
Eligibility criteria
Has to be incorporated
Should be legally registered entity in the target country/region
Earned revenue requirements for the past twelve months: Varies
Should be providing

leverage/own equity

: Varies
Special set-asides or additional evaluation points for the following groups
Application documents needed
Pitchdeck
Historical financial statements
Technical assistance
No technical assistance is provided
Types of technical assistance provided
Type of loans provided
Senior Debt
Junior Debt
Subordinated Debt
Range of loan tenors
Up to 18 years
Collaterals or other securities required
Assignment of receivables
Lein of the installed equipment
Pledges of the shares in borrower's company
Pledges of real property assets of company
Pledges of real property assets of individual shareholders
Minimum loan amount
> 10,000,000 (EUR)
Maximum loan amount
> 10,000,000 (EUR)
Average ticket size per transaction
> 10,000,000 (EUR)
Fund manager
Swedfund is Sweden's Development Finance Institution founded in 1979 and owned by the Swedish government. Swedfund is managed by the Swedish Ministry of Enterprise and Innovation. Its operations are financed by capital injections, for which the Swedish Ministry for Foreign Affairs is responsible, and through reflows from the portfolio. It contributes to poverty reduction through viable and sustainable businesses in low and middle income countries in Africa, Asia, Latin America and Eastern Europe.
Headquarters
Stockholm, Sweden
Other branches
Nairobi, Kenya